Photo Editing Software for New Photographers
Thanks to smartphones and Instagram filters, everyone is a photographer these days. But only real photographers know the value of editing raw images to bring out the very best in them.
A raw image is like an unprocessed film seen by your DSLR sensor. Image editing requires correcting several things, including exposure, noise reduction, focus, and highlighting essential objects to make a stunning image.
And there's tons of advice out there. Most talk about Adobe Photoshop, which seems to be the most commonly used tool.
As great as Adobe is, it's not the only credible photo editing software out there. In fact, there are plenty of photo editing software available on the market to explore and choose from.
In this guide, we'll cover the best photo editing software capable of meeting the needs of all types of photographers.
This includes all tools ranked and compared to include:
The best free creative photo editor.
The best tools for Mac.
The top photo editing picks for PC and Windows.
The easiest photo software for beginners.
The best portrait editing software.
What is the Best Photo Editing Software?
Best Overall Photo Editor for Mac and PC.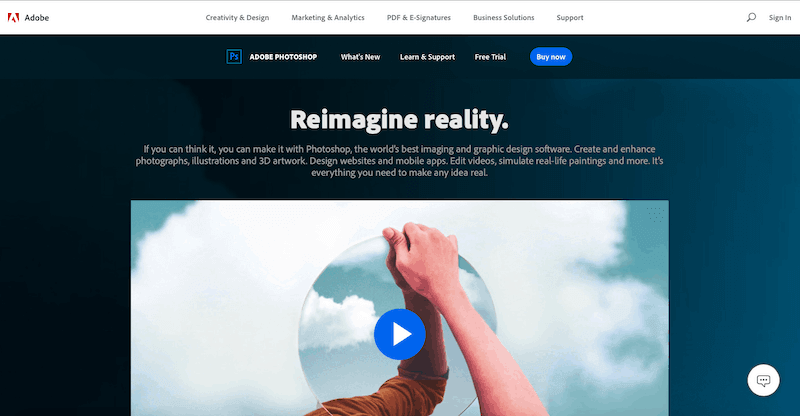 Adobe Photoshop deserves a special mention in any article about the best editing software. After all, the name "Adobe Photoshop" is pretty synonymous with photo editing by now.
It is one of the most popular photo editing software tools on the market. Photoshop is the primary tool for its legions of fans across the world, including designers, artists, and illustrators.
Unlike Adobe Lightroom, Adobe Photoshop is meticulously designed for professionals who need all the advanced features in one package. You name an editing feature, and the chances are Photoshop will have it.
KEY FEATURES:
It is practically impossible to include all the features that Photoshop offers. Here are some key features that would help you to make a better decision:
Its masking and selection tools are the best in the business
Incredible cloning and retouching capabilities
Photoshop is incredibly fast even with larger size images
It comes with depth map support for HEIF files and 360 editing tools
Photoshop supports all of the main file formats like JPG, PNG, GIF, as well as raw files
It uses adjustment layers for non-destructive editing to enhance the appearance of your image
The Creative Cloud Photography plan includes Photoshop and Adobe Lightroom for photo management.
Best Easy Photo Tool for Beginners.
Corel PaintShop Pro is a capable and one of the most inexpensive photo editing software tools out there. Some photographers call it an Adobe Photoshop alternative, but it lacks Photoshop's most advanced flagship features, including Camera Shake Reduction, 3D modeling, Faces Liquefy, detailed typography, among others.
However, if you want a software for basic yet effective image editing, then Corel PaintShop Pro is not a bad option. Just don't expect it to be as shrewd as its other more advanced counterparts.
KEY FEATURES:
Some of its unique features which make it worth trying are as follows:
Perfect for beginners
360-degree image editing capability
User experience is crisp and smooth
Designers can start working from pre-existing graphic design templates
Extensive library of gradients, picture tubes, colors, pallets, among others
PRICING PLANS:
Its offers two paid versions – PaintShop Pro 2018 version is $63.99 and The PaintShop Pro 2018 Ultimate costs $79.99, for a one-time purchase. It also offers a 30-day money-back guarantee.
CONS:
PaintShop Pro is only available on Windows. No Mac version is coming in the near future
Get started with Corel PaintShop Pro 2020.Try Corel PaintShop Pro
Best HDR and Filters for Photographers.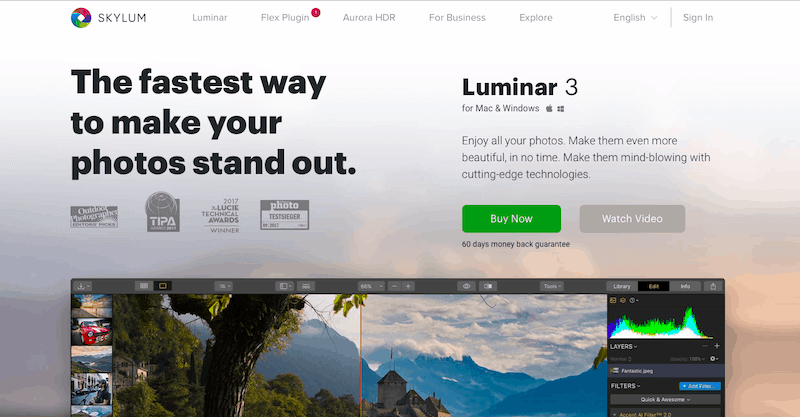 Skylum Luminar is an excellent alternative to Adobe Lightroom. As a result, it has been gaining massive popularity among photographers.
It comes with powerful image editing capabilities with more affordable pricing. Its latest version, Luminar 4, is faster and provides a perfect blend of both Lightroom and Photoshop. With one single software, you get the best of both worlds.
KEY FEATURES:
Some of its notable key features include:
Adjustment layers and masks
Offers 24/7 Technical and Sales Support
Fast editing controls with a lesser lag time
Clever shortcuts for automatic management of photographs
Folders are always updated with the content available on the hard disk
Viewing options include filmstrip view, gallery view, and single image view
AI-powered sky enhancer, and accidental AI and sun rays
CONS:
Healing and cloning tool is not always reliable
Handling of workflow and organization could use improvement
Get started with today and order the brand new Skylum Luminar 4. Try Skylum Luminar
Best Online Photo Editing Tool.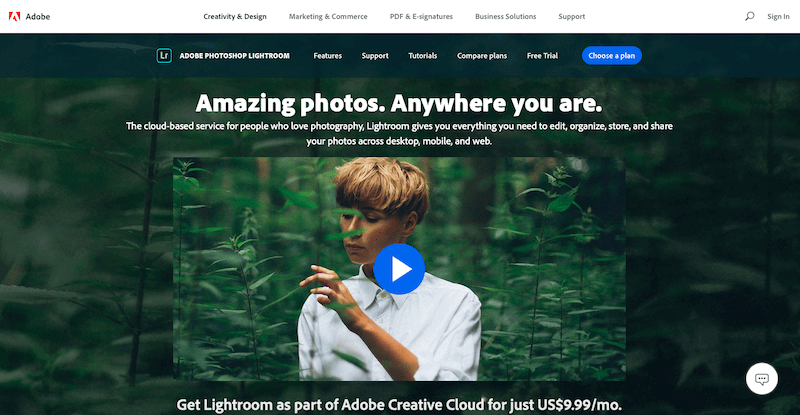 Adobe needs no introduction in the world of photo editing. In fact, it continues to be a pioneer in releasing cutting-edge photo editing software updates over the years.
Adobe Lightroom is another powerful editing software by Adobe. Ideally, it is perfect for photographers who want a more straightforward yet capable tool to edit their images.
Unlike Photoshop's complicated and intimidating user interface, both Lightroom Classic and CC offer a more intuitive and user-friendly interface for image editing.
KEY FEATURES:
Some of its incredible features include:
Sliders are customizable
Blurring and fixing tools
It syncs with multiples devices
Cam and lens-based corrections
Gradient and brush adjustment tools
Professional filters along with numerous presets
Its face detection capability helps in organizing the photographs more efficiently
PRICING PLANS:
The cloud-based photo editing tool offers seamless editing capabilities across mobile, web, and desktop through a single subscription plan. The annual subscription of its Basic plan starts at around $119.88 and ranges up to $239.88 for up to 1 TB of Cloud storage.
CONS:
Limited editing options
Absence of layers or blend modes
Fewer graphics designing elements
"The word's most advanced HDR photo editor for Mac and Windows."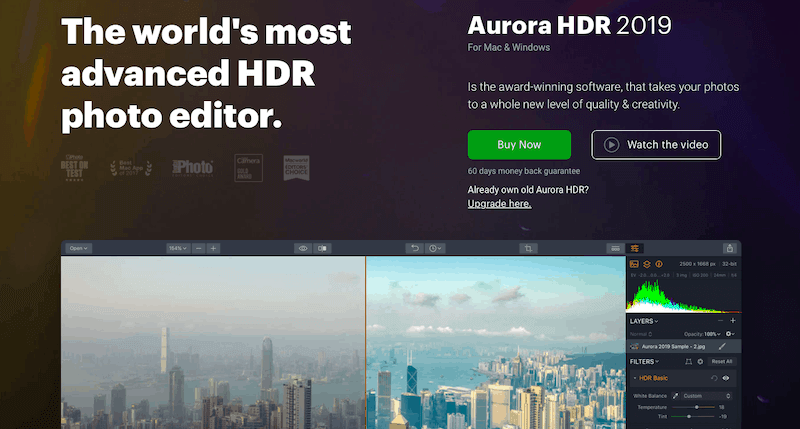 Skylum Aurora HDR facilitates the efficient merging of imagery to create final shots that look both natural and stunning at the same time. It operates as a standalone app and can be plugged-in right into other tools like Adobe Photoshop.
You can also integrate it as an Apple Photo extension. Aside from the traditional methods to create HDR images, Aurora enables photographers to create HDR images from a single file through its AI-based neural network.
KEY FEATURES:
Aurora HDR is a boon for HDR photography as it offers several leading-edge features to create cutting edge images. Here are some of its key features:
It comes loaded with 20+ tools that help you create stunning HDR images
It smartly cleans noise and enhances depth & details
Its HDR clarity feature optimizes clarity and enhances localized contrast for better results
You can leverage its 80 unique presets to create RAW images into creative masterpieces in a few seconds
You can also use manual mode to take all the control in your hands.
Best Tool for Business Templates and Designs.
Canva is one of the most popular tools to help you design stunning photo templates. Its simplistic user interface has enabled millions to edit graphics without any substantial technical knowledge.
Its user-friendly drag and drop editor can be used to add several layers to your photos. Plus, it allows you to easily add fonts and other graphics to your photos for publishing on social media or your website.
KEY FEATURES:
Canva is a go-to tool for professionals who want to create photo designs for websites, social media, flyers, brochures, and marketing collateral.
Here are some of its key features:
You can download its mobile app to edit photos and create designs on the go
It offers more than 8,000 templates, photos, icons, and cards for easy creation of visual content
Straightening and image cropping
Offers speech bubble maker
It is online and can be used on any decent computer
Get access to its massive library of images and designs
Stores your photos and designs in the cloud